See the future by looking back.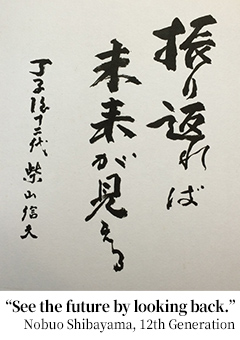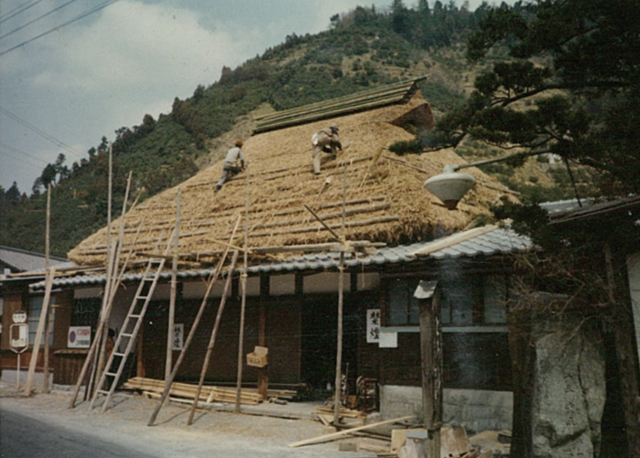 One senses of the value of "old" when thinking about being in business for 420 years. It is the lucky result of providing happiness to customers throughout generations of changing values. But staying on this long was not the only goal. I feel the simple ideals of "bringing joy to others" and "enjoying our time together" have been the key to the last 420 years.
With the words "See the future by looking back.", Chojiya's 12th generation and my grandfather passed away in 2016. The reason for Chojiya today is in thanks to my grandfather as well as the family, staff, and community who supported him and the 11 generations before him.
One personally endearing episode is the reconstruction of the thatched roof, now considered a symbol of Chojiya. It was 1970 and a traditional Japanese house just 1km from Chojiya planned for destruction was moved instead to Chojiya. The Japanese economy was growing quickly and quite reasonably people were replacing their poorly insulated and inconvenient old homes with modern ones. This was happening not just in Mariko but all over Japan, and probably not just with buildings. Many people at the time were against moving and reconstructing the thatch roof at Chojiya. But its reconstruction fulfilled my grandfather's belief that "Chojiya has history".
Writings about tororo-jiru (grated yam soup) by Basho and Ikku plus the artwork of the thatched roof by Hiroshige—while the landscape changes, there is always grandfather's tororo-jiru which has stood the test of time.
Tororo-jiru as a Part of Life
It has been 50 years since Chojiya was incorporated in 1970, the year of the roof reconstruction, and 421 years since our founding. Chojiya's path can be found in the print by Hiroshige. This work, depicting the Tokaido and its shukuba (post stations), includes a tea house with my grandmother of many generations past holding a baby and two travelers thought to be the famous story characters Yaji and Kita; while in the background is a jinenjo (wild yam) farmer and the Mariko area. Mariko still posses a connection to people, just as it always has. I feel it is our responsibility to to protect this community landscape of Mariko and have made it part of Chojiya's mission. By these words we will continue forward as part of the community and as a post station along the Tokaido.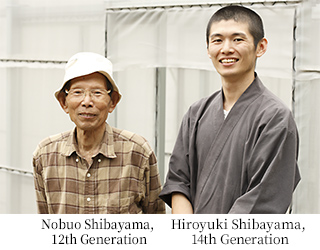 Spring 2017
Hiroyuki Shibayama, 14th Generation Chojiya
Chojiya Mission
Chojiya will continue to be a place where all are welcome.
Continue to plant seeds of happiness in the land given to us.
Treat each person as family.
Believe in one another.
Enjoy each other's uniqueness.
Build up on the "today" of time past.
Picture Edit by Kaichi Sugiyama